The other day I realized that in August I'll be helping to teach a stained glass/fused glass class and yet I haven't actually finished any stained glass in…..well, years. So. Back to this project started in 2008….
Over the course of about 5 hours (across two days) I finished grinding, washing, and copper foiling it to get it to fit in the frame (with a few design mods due to carelessness and limited glass to make up for mistakes. ooops.):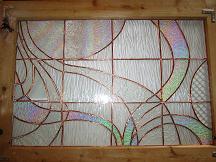 I've since also finished 80% of the soldering, too, but have yet to take a picture of that. I'm still working out how I want to finish the outer edge and what patina to use on the solder. This is intended for my bathroom window, but I don't think I want to permanently install it. So….. lead came? Or a wooden frame? I'm not sure yet.