Invited to "A Giants Christmas Party" where everything is small (because let's face it, we don't have good giant outlets here in the US) . . . . with the help of my mom, we came up with the idea of miniature flower arrangements for the party . . . . and with the help of S, we made the actual arrangements just minutes before heading out for the event: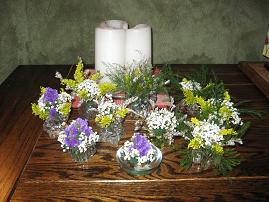 Flowers include: baby's breath, fern, two types of stattice, and goldenrod.
Vases are various candle holders.
(Click on the image to see individual arrangement close-ups.)