A couple years ago I bought a little "charm pack" of batik fabrics at the large quilt expo we have in town every September. It's taken me a while, but I finally finished a table runner with those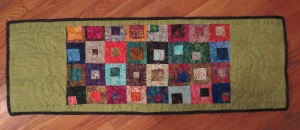 Then I worked on making a backing for the above piece (out of green scraps) and decided that I like this side better than the batik charm pack side, so this is now officially the front side of the table runner: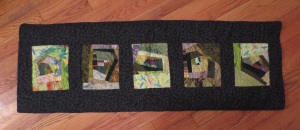 Still to do: go to the hardware store to see if I can locate materials with which to build a hanging system similar to ones I saw all the time in Japan.  I'm not actually gung ho about "table runners"…..